Porting mobile games to a sizable number of mobile phones has become a blockade for any developer to succeed globally.
Base77 has been providing cutting edge porting services, to select clients across the globe. We offer both operator specific and handset specific porting services extensively for disparate mobile phones and carriers. We have set internal standard process, for effectively porting the mobile games and applications.
Base77s' competency has been providing cost and quality effective porting solutions. We boast of porting and testing for mobile games and applications, in most efficient way with least turnaround time and thence increasing developers' time to market and reducing the total cost involved.
Base77, eyes at partnering with Mobile game developers who want concentrate on game development and seek cooperation for mobile game development, porting and testing services.
We have dedicated streamlined processes; to test distinct builds for different ports in real mobile phones, at our development center. We use a structured porting framework to make our porting process most effective.
We support porting and testing, for the following technologies:
J2ME
Brew
Flashlite
Symbian
.Net CF
Base77 deploys an instinctive methodology for cellphone content porting work that should be carried out in the existing j2me application for making it work for a wide range of handsets, relative to some given specifications such as MIDP 1.0/2.0, CLDC, Screen Size, Heap Size etc.
The proposed methodology encompasses the following phases:
Port Design Phase
Port Development Phase
Port Testing Phase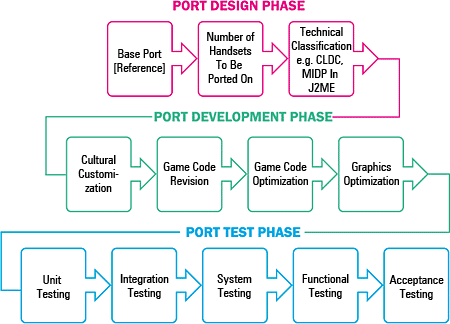 Base77's porting structure for both CDMA and GSM networks
To know more about our mobile games porting and testing services write to:
info@base77.com